This article explains how to send a e-mail in a Znuny / OTOBO Process Management process in a transition action.
As a OTRS user on the versions <= 6.0 you can easily switch to Znuny, and you should! Read more about upgrading Upgrade/Migrate trouble-free from OTRS 5 to OTRS/Znuny 6
This features are freely available in Znuny!
Minimal Configuration to send e-mails in a process
Znuny 6.4 introduced several new features to Process Management. One of those is transition action SendArticle. Although documentation that is available on Znuny.org seems to be comprehensive, making it work is still a challenging task. Below you can see a minimal configuration of the SendArticle Transition Action.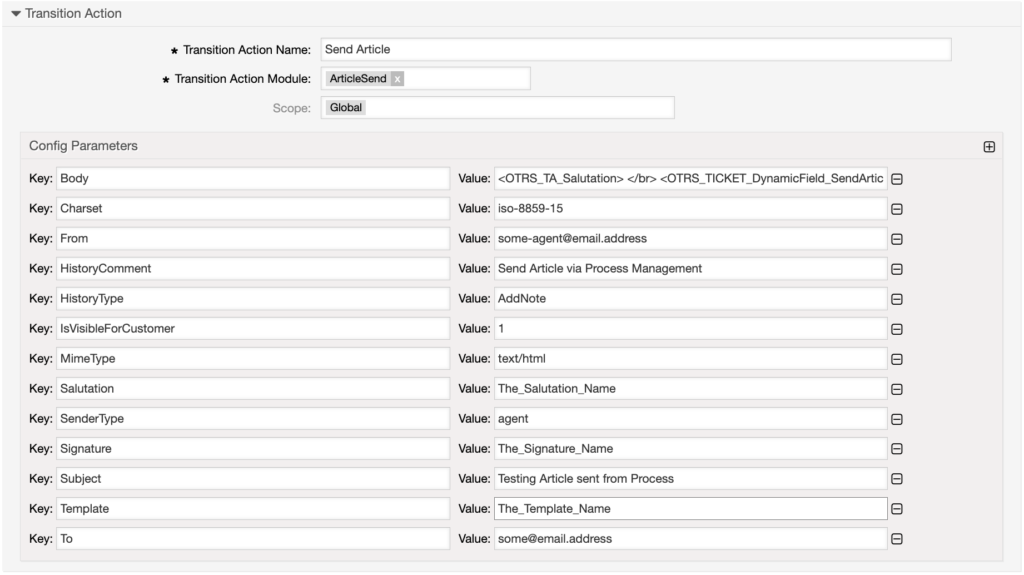 Hints
Salutation, Signature and Template are fields expecting name of desired article component. In Body you are then referring to those variables using <OTRS_TA_Salutation>, <OTRS_TA_Signature>, <OTRS_TA_Template>.
You can use <OTRS_*> variables in the text of Body as well.
Debug information is available in error log.
Related Articles